19 Jun 23
Diversity, Equity and Inclusion (DEI) in the Workplace
As a female in STEM from an ethnic minority background, I know firsthand the transformative power of Diversity, Equity, and Inclusion (DEI) in all settings, particularly within the workplace.
DEI encompasses the principles of creating an environment where individuals of diverse backgrounds, perspectives, and experiences are not only welcomed but valued and empowered. It goes beyond ticking boxes and token representation – it fosters a culture of respect, equal opportunities, and innovation.
Inclusive workplaces cultivate a sense of belonging and harness the unique strengths that diverse individuals bring to the table. When companies prioritise DEI, they lay the foundation for greater creativity, collaboration, and success.
Leading in Diversity
At Rockborne, we firmly believe that leading in DEI is not just a goal, but a responsibility. We take pride in our commitment to diversity and have achieved remarkable results in comparison to our competitors and industry standards.
Our dedication to creating a diverse workforce has resulted in impressive diversity statistics, with representation from various backgrounds and perspectives. As a result, our workforce genuinely reflects the communities we serve, and we take great pride in this achievement.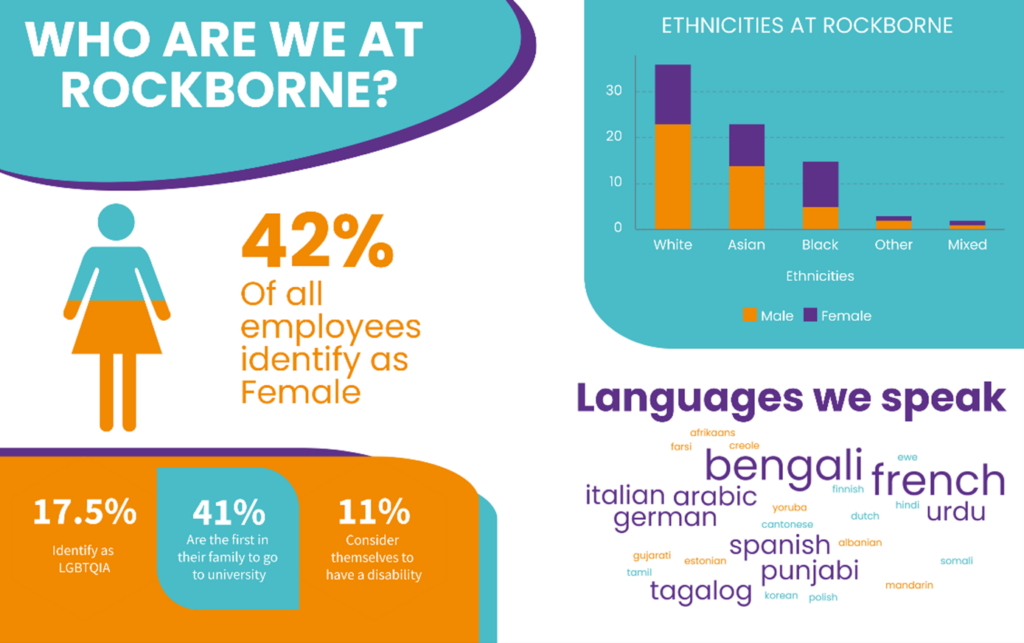 To further strengthen our commitment to DEI, Rockborne has established valuable partnerships with organisations such as In2Science. These collaborations allow us to actively contribute to accessibility and equal opportunities within the data industry.
Additionally, we have taken important steps to ensure our physical environment is inclusive and accessible, with features such as ramps and lifts that enable everyone to navigate our building comfortably.
Ongoing DEI Efforts
At Rockborne, our commitment to DEI extends far beyond words. As an active member of our DEI committee, I am proud to share some of the ongoing efforts we have undertaken to promote a more inclusive and supportive workplace.
Ramadan Fasting Challenge
One of the initiatives we recently organised was the Ramadan Fasting challenge, where employees were invited to experience a day of fasting in solidarity with our colleagues observing Ramadan. This challenge not only promoted cultural understanding and empathy but also served as an opportunity to raise funds for the Turkey Syria earthquake relief. By combining personal experiences with a meaningful initiative, we cultivated a sense of unity and support with our colleagues.
Mental Health Awareness Week
During Mental Health Awareness Week, we organised a comprehensive Mental Health Workshop workshop for our employees. This workshop provided valuable insights and resources to support individuals in managing their mental well-being within and outside the workplace.
Building on the workshop's success, we developed a Mental Health Toolkit that serves as a practical guide for our employees. This toolkit equips them with strategies and resources to support their mental health, including information on self-care practices, mindfulness exercises, and access to mental health support services.
These initiatives are just a snapshot of our ongoing DEI efforts at Rockborne. We remain committed to creating an inclusive and supportive environment where all employees can thrive. Our DEI committee continues to actively explore new initiatives, workshops, and collaborations to further enhance diversity, equity, and inclusion within Rockborne.
DEI Takes Constant Effort
At Rockborne, we recognise that cultivating a culture of DEI is a continuous endeavor. Embracing diversity and prioritising inclusion not only enriches our workplace but also paves the way for a more equitable and inclusive future. Our commitment to DEI drives us to continuously empower and uplift every individual, regardless of their background or identity.
Interested in joining our diverse team? Find out more about the Rockborne graduate programme here.