PRESS RELEASE
September 28, 2023
Rockborne has received two accolades at the DataIQ Awards, an annual event that celebrates excellence in the data industry.
This year, at the DataIQ awards ceremony held at The Roundhouse in London, UK on 27 September 2023, Rockborne won the title of 'Best Data Academy or Skills Development Programme' (Vendor Side) and 'Best Diversity, Equity and Inclusion Initiative.'
Rockborne's CEO, Waseem Ali, said: "As a start-up that's relatively new to the scene, we understand the uphill battle that we face when it comes to making a dent in the industry. However, these awards are a reminder that, in just two short years, we're starting to make our mark and have a significant impact on the data industry. To be recognised for our work in development and diversity is not only an honour, but also valuable confirmation that we are on the right track."
Launched in 2021, in a bid to change the traditional face of the UK data industry, the Rockborne team has been determined to put its money where its mouth is and show what a pioneering start-up can achieve.
The company's innovative 28-month graduate scheme begins with an intensive 13-week course at its purpose-built training centre in London. The programme aims to open the door to those who may not have considered a career in data, by spreading its recruitment net to scoop up graduates from a range of universities and degrees, including non-STEM courses.
Since launching, Rockborne has employed graduates from 53 institutions across the UK who speak 26 languages, 30 per cent of whom come from socio-economically disadvantaged backgrounds.
Achieving the 'Best Diversity, Equity and Inclusion Initiative' award is a testament to the foundation on which Rockborne was built – to improve the diversity of data and tech workforces.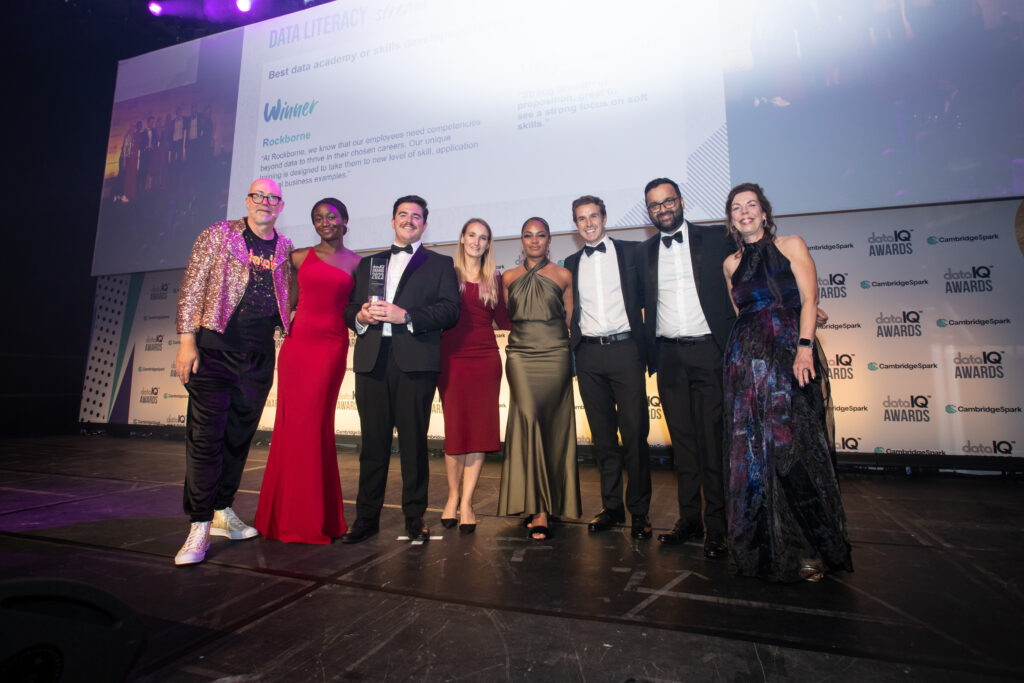 Demonstrated in numbers, 53 per cent of the scheme's first intake is made up of those from ethnic minority backgrounds, compared to just 25 per cent in the wider data industry. Meanwhile, nearly half (43 per cent) of the intake are women, much higher than the industry average of 28 per cent. One in six (16 per cent) of all applicants have a disability – twice the figure for the tech industry as a whole (7 per cent).
The DataIQ judges noted Rockborne's submission as 'one of the most honest and human responses to the category', living up to its statement that 'diversity is far more than a policy in the employee handbook… it's an intrinsic process – something we need to live and breathe.'
Amy Foster, Rockborne's Director of Talent, said: "We couldn't be more chuffed to be recognised but this is just the beginning. We never came into this game with an end goal in mind, we view our role in the market as a commitment rather than a race to be won. What we are doing at Rockborne is still in its infancy but it's incredibly exciting to be a part of.
"I believe that much of our success can be owed to our constant drive to do better. We have cultivated an atmosphere of honesty within our team, which means that whilst we are proud of what we have achieved, we also acknowledge that we are not yet nailing it. This approach allows us to push for more and to challenge one another to do better. It's not always easy or comfortable – no one likes to admit that they were wrong – but for DEI to be successful, businesses need to stay open to conversation and learning, rather than letting ego get in the way."
Interested in working with Rockborne? Book a call with our Director of Growth, Dan Lewis to understand how our next generation of data specialists can help your business to thrive.