11 Apr 23
MEET THE TEAM: Miguel Angel Sanchez Razo
Meet the team :
Hi! I'm Miguel, I'm a data enthusiast and my entire career has been centred around the world of data. I'm a Data Coach at Rockborne, a position I started in September 2022.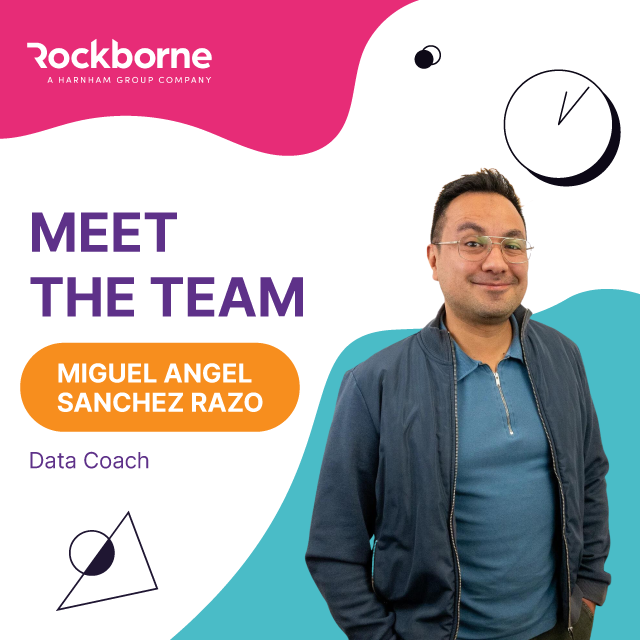 I have always been involved in the data world. It all started in Mexico with my brother and his first computer (there is a considerable age gap between us) so he was doing his undergrad and I was in elementary school. Back in the day, we are talking about a workstation with 64kbs of memory and that was like, wow! It was enough to play Doom II and work on some basic Excel implementations, but most important, it was the door to discovering the programming world.
After Uni (I did a Computer Science related degree) I joined a placement in a Business Intelligence start-up that later became one of the biggest BI and Data warehousing consulting companies in Latin America. 
My path has been similar to our consultants', I started as a data analyst and moved up the ranks to Project Manager collecting several certifications along the way. It was an amazing experience that allowed me to learn not just different technologies, but different organisations, industries, and business cultures.
When I moved to the UK, I pursued a master's degree in Advanced Computer Science and then worked as a researcher and lecturer at the University of Reading. During this time, I taught and researched multiple subjects related to data such as Databases, BI, Data Science, and others. Now, at Rockborne, my responsibility is to train the next generation of data analysts.
 I joined Rockborne because I share the company's values and mission: "Bringing diverse talent into the data industry".
I believe that programs like the one offered by Rockborne can be life-changing for individuals who wish to start a new career but do not have the necessary means or experience in the field, especially if they do not have a STEM degree. My goal is to be an agent of change and help these people achieve their goals.
In my free time, I enjoy playing video games (especially Overwatch), conducting research (mainly focused on the implementation of Machine Learning and Data Science in different domains), and traveling the world.
A fun fact about me – I'm a proud father of a Corgi (yes, the Queen's dog) named Lupita. 
Find out more about the Rockborne graduate programme here.