24 Jul 22
Introducing the new home of Rockborne: A state-of-the-art training facility
Training Facility:
We are delighted to announce the opening of Rockborne's brand new world-class Data & Analytics training facility.
While we may have started on a small scale, training a cohort of 15 to 20 every few months, demand for Data & Analytics talent has led us to fast-track our growth plans and open this brand new state-of-the-art, an accessible training facility which includes a new suite of classrooms, breakout areas and meeting rooms.
This will see a 400% increase in our capacity to train and develop students across multiple subject areas including Data Engineering, Data Analytics, and Data Science.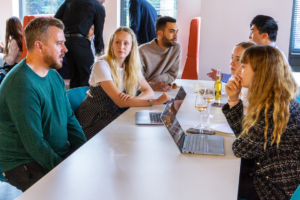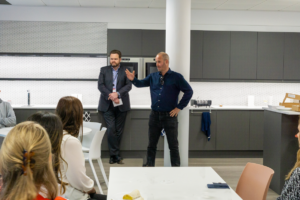 At the heart of Rockborne's mission was to roll out a strict DE&I policy, making Rockborne a workplace that is accessible to all and putting an end to the current 'elitist' nature of Data and Analytics. We pride ourselves on our robust DE&I framework; each cohort we welcome is made up of an equal split of females and males, as well as widely representative of the UK's ethnicities and races. With the increases in cohort intakes this expansion allows, we are now more determined than ever that DE&I is front and centre of everything they do, and that 'Diversity of thought' continues to grow in the company.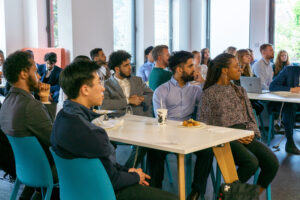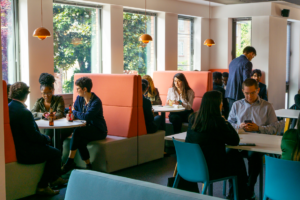 On a personal note, I am incredibly proud to announce the opening of our new training facility, which will be of huge benefit to graduates and businesses, turning out the next generation of fully-fledged data and analytics professionals.
We have invested heavily in new curriculum subjects and content, as well as hiring many more highly experienced trainers and associates to enhance the learning pathways we have to offer.
We have also bolstered our non-technical business and consulting skills curriculum, giving our people the essential business understanding that helps them to hit the ground running for our clients.
Eddie Short, Chief Data Officer for Virgin Media O2, was there to open the offices for us and, as a real champion of diversity and inclusion in the data world, we're thrilled that he's experiencing the facilities first-hand.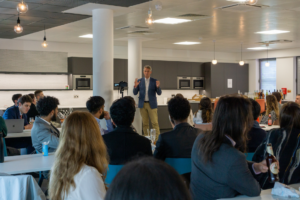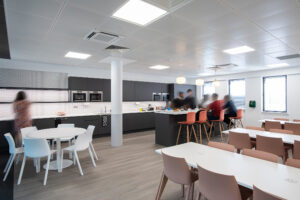 His presence is a testament to the contribution this facility will make to the sector – Eddie's amazing career in data is an inspiration to all our trainees and shows us what can be achieved with an unswerving focus on developing great teams and placing emphasis on the diversity of talent within them.
For his part, Eddie has said:
"In this day and age, the challenge for most businesses is to become more intelligent by being data-driven. This is only going to happen if companies invest in growing their teams from the ground up.

"While most businesses are taking the need for digital transformation very seriously, recognising that in 10 to 15 years' time, the business landscape and the needs of their customers are going to be utterly different to what they are today, their plans are being stunted by the lack of talent currently available in the market.

"What Neil and the team at Rockborne have created is revolutionary. The support they are giving to the next generation of incredible talent through their innovative programme, and the boutique service they provide to a wealth of progressive clients, will be a key driver in the success of Data and Analytics in this post-pandemic era.

"I am honoured to open their new facility, and excited to see what the future holds for Rockborne."
Find out more about the Rockborne graduate programme here.